Hand Lettering Guide For Beginners
Hand lettering has been around since the Middle Ages and is still popular today as a graphic design skill.
In the Middle Ages, all books were drawn by hand. This inspired artists to get creative with how they drew their letters, and the art of hand lettering was born.
Hand lettering has reemerged with a vengeance with the recent popularity of the DIY movement. Despite the digital age making it incredibly easy to type things up on a keyboard, people are still utilizing this art form that is thousands of years old.
Hand lettering videos are a popular trend on social media. Many find watching the art of hand drawing letters to be quite soothing.
If you're interested in learning more about the lettering process, look no further. We can take you from a complete design novice to a hand-lettering pro.
This article will cover how to build your lettering skills, the essential lettering tools and lettering supplies you'll need, give you some resources, including lettering drills, and cover the basic lettering styles.
Let's start with the basic knowledge you'll need to move forward: What is hand lettering?
What Is Hand Lettering?
Hand lettering is an art form that involves drawing letters by hand. Hand lettering allows artists to interpret letters in creative ways.
The art of lettering varies depending on the style and the artist doing the lettering. No two lettering projects are the exact same. You've likely seen hand lettering designs on wedding invites, home decor, and social media posts.
Hand lettering has various styles, shapes, and forms. We'll talk more about this later and cover the basic styles you'll need to know. So, you might be thinking, isn't that just calligraphy? Well, yes and no.
Let's break these terms down and talk about how they differ and how they are similar.
Hand Lettering Versus Calligraphy
Hand lettering and calligraphy are often confused with one another, but they are, in fact, different.
In calligraphy, artists write out letters. With hand lettering, lettering artists draw each individual letterform. Or, to put it simply, hand lettering is the art of hand drawing letters, and calligraphy is the art of writing.
Lettering artists also don't need a special tool to create their work, while calligraphers use a special calligraphy pen.
There is also a form of calligraphy called brush calligraphy that uses a brush pen. This is popular in Chinese culture and is similar to brush painting. Chinese Brush Painting is an ancient art that uses brush strokes to depict an object or scene. Brush letterings are similar to calligraphy. In brush lettering, heavy pressure is applied for downward strokes, and light pressure is used for upward strokes.
If you want to learn more about calligraphy and brush lettering, here are some great YouTube channels with calligraphy classes and brush lettering classes.
Now, let's chat about the most popular lettering styles seen in the design industry.
Popular Hand-Lettering Styles
If you're trying to get into hand lettering, you'll likely want to learn multiple different styles. We're here to help you on that journey.
We gathered up a list of basic lettering styles, and we'll go into a bit of detail about what each style is known for. And don't forget that you can combine these styles in your lettering projects to make certain words stand out. Learning multiple styles can really take your designs to the next level.
You can also play around with letter sizes and capital letters to create diversity in your letter art. Try out all these styles and see which works best for you.
Serif Lettering Style
A Serif is the "bar" that is attached to the ends of certain letters.
This style makes designs appear dignified and traditional. This is a classic of the basic hand lettering styles. If you're going to become a lettering artist, you'll certainly need to learn this style.
Sans Serif Lettering Style
Now that you know what serif lettering style is, let's get into Sans Serif style.
Sans Serif means "without" the serif. So, essentially it's the same style as above, but without the serif on letters. Sans Serif is also known as block letters. This style is modern and clean in appearance.
We recommend starting out with this style because it is perfect for beginners and really easy to learn.
Script Lettering Style
Script lettering style, which is also known as cursive, is a common style in hand lettering. Script lettering is a style where each letter flows together.
You can use this style to make a letter project appear fluid or feminine or to add diversity to a piece with block letters.
Bounce Lettering Style
Bounce lettering style goes against a lot of the basics you'll learn when you first start lettering. In this style, your letters don't line up like they normally do. Instead, they "bounce" around on the page.
Use the bounce style to give your designs a fun, whimsical look.
Celestial Lettering Style
The celestial lettering style is a condensed lettering style with serifs that features stylistic brush strokes. Celestial letters appear sophisticated and creative.
Use this style to add flair to your lettering design.
Vintage Lettering Style
Vintage lettering is a style that mimics classic lettering styles from the past.
Vintage designs are incredibly trendy this year. This style is inspired by classic fonts and can be used to create a vintage appearance or add a nostalgic feel to your design.
Gothic Lettering Style
Gothic lettering is a style that is similar to the Vintage lettering style. This style is also known as Blackletter or Old English style and features bold strokes and serifs.
Gothic lettering mimics the Gothic architecture and can be used to make a piece appear vintage or austere.
Essential Lettering Tools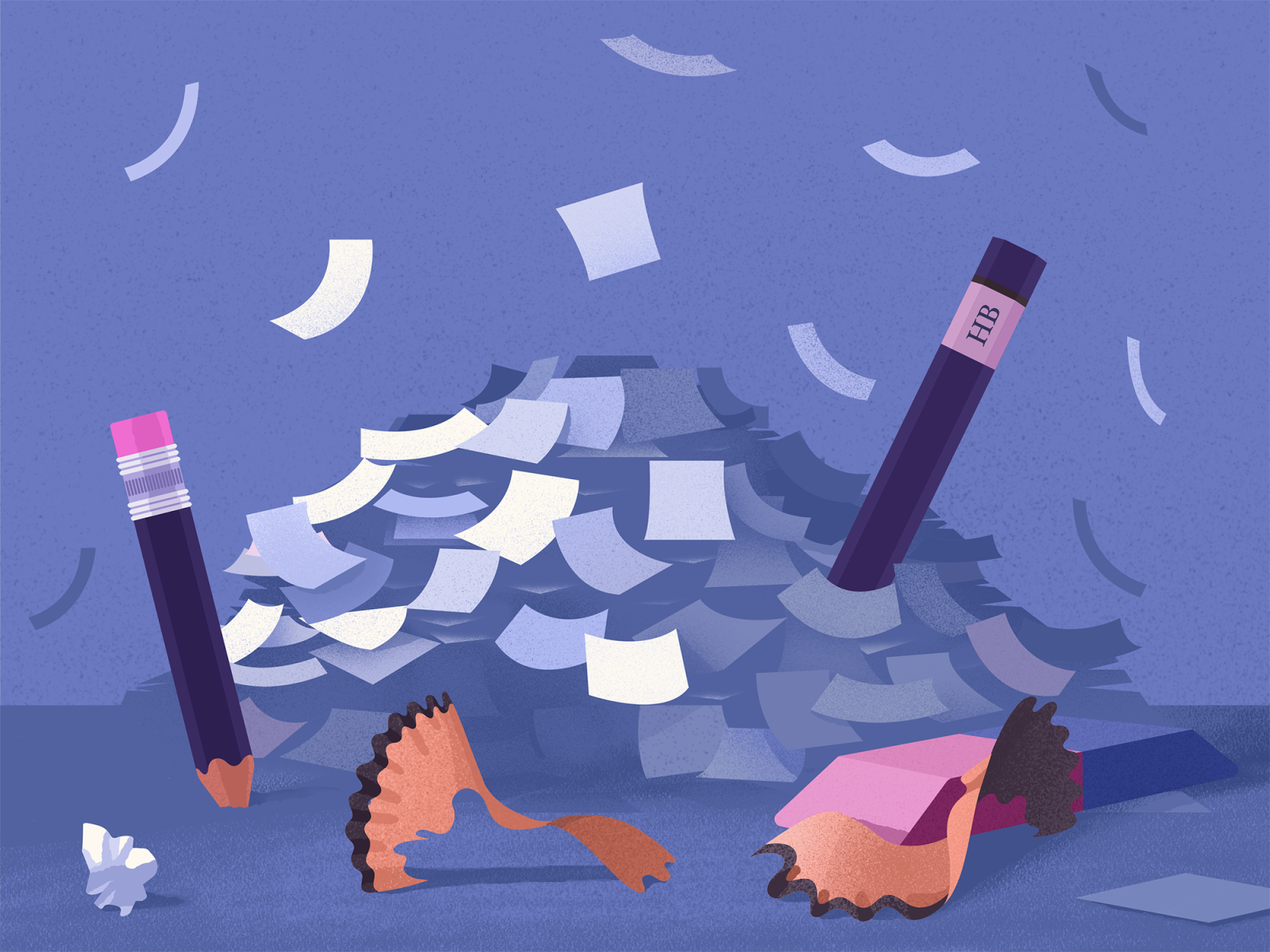 You don't need fancy or expensive tools for hand lettering. In fact, you probably have most of the things you'll need to get started laying around your house.
However, if you want to get the best tools, we've got some suggestions for that as well. We've included our suggestions with Amazon links below to make the process easy for you.
Pencil Or Pen
To start lettering, the major thing you need is a writing utensil. This might seem obvious, but the kind of writing utensil you use is pretty important.
A pencil is great for practice and for first drafts. Light pencil marks are much easier to erase than dark pens. You can use a mechanical pencil or a nice art pencil for your practice.
Eventually, you will likely find that a pen or marker gives you cleaner lines. A fine tip marker or brush pen works great for this. You can also try and use a more affordable ballpoint pen. However, you might need a better technique to make your lettering look good with a ballpoint pen.
Play around with different types of pens, pencils, and markers and see what works best for you. Everyone has a different preference.
Eraser
Hey, we all make mistakes, right? If you're going to start practicing lettering, you're going to make a lot of them.
You probably have an eraser on the end of your pencil if that is your writing tool of choice, but if not, you should consider grabbing a high-quality eraser that enables you to make mistakes.
Making mistakes is how we all learn and grow when we're trying new things. Keep an eraser handy when you're starting out, and don't be afraid to try new things and erase them if they don't work out.
Paper
The next item on our supply list is another obvious one. If you want to draw letters, you'll need some paper to work with.
This can be fancy art paper such as bristol, or it can just be a piece of printer paper. You can even create a beautiful design on a spare napkin or a receipt that you have sitting around.
However, keep in mind that using the right kind of paper can save you money over time. Certain paper will wear on your lettering pen and require frequent replacements.
If you want some extra help making straight lines, see if you can find some graphing paper or paper with lines that you can use to base your letters on.
Try starting out with some practice paper and a pencil and eventually move your way up to nicer paper and a pen when you're comfortable with what you're doing.
Stationary paper and envelopes work great for lettering. We also recommend using smooth paper to help your lettering practice.
Ruler
A ruler can help with straight lines and consistency. But you don't need to go out and buy a ruler if you don't have one.
The edge of a book or a truck piece of paper will work just fine to help you draw straight lines. However, a ruler is especially helpful because you can measure the size of your lines and letters and draw lines to stay within.
Straight lines are the key to any good hand lettering project, but you don't have to keep a completely steady hand when you have the help of a trusty ruler or straight edge.
How To Hand Letter
Now that we know some basic lettering styles to practice, let's talk about how to hand letter for beginners.
It's easier than you might think. Your skill level is less important than your willingness to learn and your level of consistency. We'll give you some basic techniques but you'll need to keep practicing to nail the aspects of lettering.
Here are the basic steps to hand lettering:
Create a small sketch: make a small-scale sketch of what you want your project to look like. This will help you visualize how your hand lettering project will appear on a larger scale without having to create a full-size sketch. This is also a great time to practice basic strokes.
Create a full-size draft: Once you've perfected your small sketch, use a pencil to scale your design to the size you want it to be.
Sketch your letters: Now that you have a full-sized draft to go off of, get out the paper you want your finished product to be on. Use your pencil to start sketching out letters. Work on drawing straight lines and pay attention to spacing.
Trace over with ink: if you're happy with how your letters look, it's time to make things final. Get your pen or marker out and trace over your design with ink.
Finalize your design: Now that your letters are complete, you can go back to add your finishing touches. Add embellishments or designs to your letters if you want and clean up your lines. And don't be afraid to add fun colors to your design!
Digitize (optional): You can use Vectornator to digitize your final design for printing or posting on socials or collateral.
Basic Rules Of Hand Lettering
Let's go over two core rules of lettering that you should keep in mind while starting your lettering journey: practice and consistency.
Practice
They say practice makes perfect. That is especially true for lettering. It is an art that gets better with practice and patience.
Try and set aside some time each day to get consistent practice. You'll be surprised how much your art improves. But don't worry if you don't have time to do lettering daily. You'll still get better with practice over time.
Set some lettering goals like learning a new style or perfecting serifs, and do lettering drills until you achieve it.
Consistency
Consistency is an essential factor in how your hand lettering will turn out.
Letters, spacing, and sizing need to all be consistent, or the overall product will look sloppy. This takes tons of practice. To reach a level of consistency that looks flawless, you will need lots of patience and experience with hand lettering.
Consistent letters and consistent lines, when done correctly, will take your hand lettering a level up. Once you get the consistency of lettering figured out, you'll be a pro and will be able to take on complicated projects.
A good ruler and a steady hand will help you achieve this goal. You'll also need to be careful to have the correct letter spacing and clean up lines that look sloppy.
Additional Resources
Now that you know the basics of hand lettering, it's time to practice. But you're not on your own. We've got some awesome resources to help you learn more about lettering and hone your lettering skills.
Use these additional resources to continue your practice and look for hand lettering communities.
Practice Worksheets
Practice worksheets are the perfect way to improve your lettering skills. This list includes some practice sheets and lettering alphabet worksheets that we highly recommend.
Online Class With Lettering Experts
Taking an online class or watching a tutorial is another great way to practice lettering. These classes are completely free and easy to follow.
One features a basic drill, another is a simple introductory class, and the third class can help you find your own hand-lettering style.
Lettering Books
Books about lettering are another great way to maintain your lettering practice. This list has some awesome books for beginners.
Wrap Up
That wraps up our guide to hand lettering.
By now, you should have a solid foundation from which to build on your lettering skills and a ton of resources to help you practice and find your own hand-lettering style. And if you feel ready to digitize your hand lettering projects, you'll find that using Vectornator is a lot easier to than any other software out there.
Don't be a stranger. Follow us on socials and share your favorite lettering projects. We can't wait to see where your lettering journey takes you.
A design brief is probably the most important part of your design process. Here's a handy guide for freelance designers.
Historically, the depiction of erotic love has always been one of art's main subjects. But what about the portrayal of queer love in art?
Budding freelance designers seeking self-employment are uniquely positioned, as their skillset stands as a prerequisite for so many other forms of business, from multi-national corporations to Mom and Pop shops.